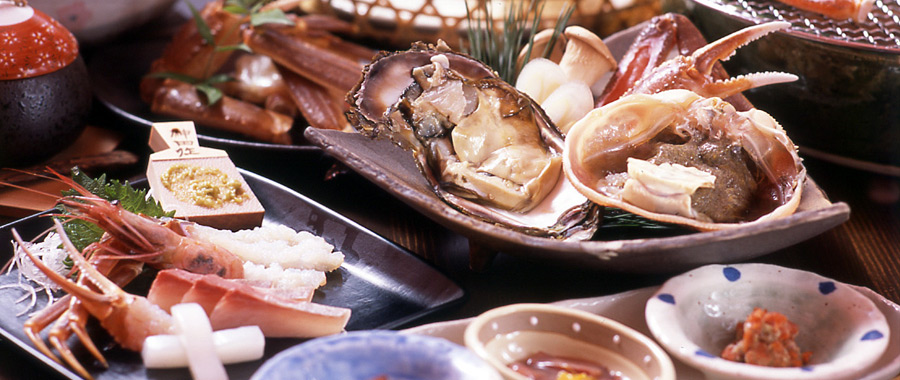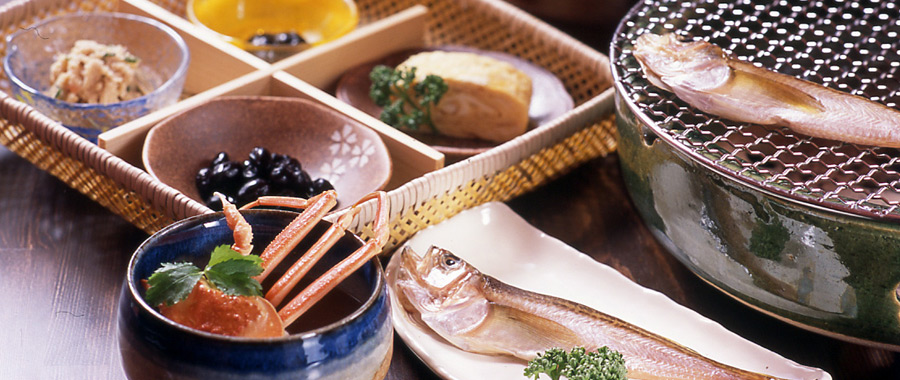 Kojinmari sticks to ingredients
Bounty of the sea
Spring – early summer, autumn – winter the bottom of the Japan Sea is flourishing under the bottom. Shrimp such as demon, shrimp, white shrimp. Fish such as flounder and Arctoscopus japonicus. Kasumi kani was kotoba – soon after being landing.
Summer – fall is a fisherman's fishes such as Ako, Bonkazza. Shellfish such as natural abalone, scallop, turtle and so on. Squid squid, such as white squid, Aoka.
We stick to the fresh seafood delivered from local fishing ports such as Tsuzan, Kasumi, Shibayama, we purchase every day.
Bounty of the earth
A delicious rice of agricultural chemicals of safe security made by a contract farmer in a naturally rich soil in which the stork dances.
Vegetables are a feature, in season, we are purchasing pesticide-free and organic cultivated items as much as possible. And meat is Tajima cattle, of course.
Northern soy sauce of natural brewing, salt made from seawater of Takeno, miso made from stork soybean,
I will use the seasoning made by the Tajima person by the raw material of Tajima.
I hope you can eat rusty treats that you can take in the Tajima land, including Shirosaki where we live, eat with peace of mind, and whatever you say is delicious.

About "Matsuba kani" to eat at Kojinmari
The smallest inn in Shirosaki. There are only 4 rooms in the room.
"Matsuba kani", a trusted broker bought out, is not obsessed with the production brand, but by seeing the real thing with eyes, holding it in hand, "stiffness" "weight" "living" "color" I will check the goodness. In other words, fishermen sorted out, brokers selected, furthermore I strictly screened and convinced, "Matsuba kani" is a commitment.
About "Matsuba kani"
In Kojinmari, the snow crab which was operated in offshore Kyoto off Sanba off the coast of Hyogo prefecture where Kinosaki Onsen is located and which was captured by the offshore bottomed net fishing boat is "pine needle". Hokkaido and North Asian (Russian and Canadian) "Pine needles are not called".
From that, "Hyogo Prefecture Port" (Tsuzanyama Port, Shibayama Port, Kosui Port, Hamasaka Port) will be provided with "Pine needles".
About "Brand Tag"
Each fishing port is tagged with the name of the ship for each fishing port that was brought to brand and identified for identification.
Tsuzan harbor can be a day trip off Tango off the fishing ground of a good fishing ground, fresh, Shibayama Port competes with a pocket tag with a pink tag Keep freshness in the selection of Japan, Hamasaka Port is active with a white tag Management tank in management tank Each fishing port is in competition for good quality such as freshness, because it makes good use of its returning port. Generally, it is told to guarantee the goodness of quality when tagged.
Although it is understood by screening, there is a big difference in quality. Since tags are attached, it is not only high-quality pine needles, and it does not mean that the good or bad of pine needles is decided at the fishing port to be landing.